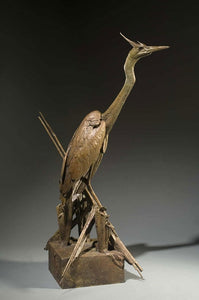 Walter Matia-Legend of the Fall-Limited Edition Sculpture
Regular price $17,500.00 Sale
Walter Matia
Legend of the Fall-Heron
Bronze edition of 36
 57"H x 24"L x 24"D
$ 17,500
 A representative will call you with a shipping estimate.
Walter Matia was educated at Williams College in Massachusetts, where he earned degrees in Biology and Art Design. Much of his training was attained during a long apprenticeship in the Exhibits Department of the Cleveland Museum of Natural History.
After leaving the Cleveland Museum, Walter worked for eleven years with the Nature Conservancy, a national non-profit organization dedicated to the preservation of endangered species and unique habitats. He served as the organization's vice president in charge of land management.
He began casting bronze sculptures in 1980. Initially, he concentrated on bird life, over the years he has worked on sporting dogs and other mammals. In 1987 he began a series of large fountain and garden pieces. In 1989 the Blair House Restoration Committee placed one of his fountains in the formal garden of the United States President's Guest House. To complement the fountain, Walter produced a bronze wall frieze for the Blair House in 1992.

His works have been exhibited in one man shows at the Cleveland Museum of Natural History and the Southern Alleghenies Museum of Art. He is regular participant of the Society of Animal Artists; National Sculpture Society; Masters of the American West; Coors Western Art and the Prix de West Invitational. Walter is a Fellow of the National Sculpture Society, a Master Signature Member of the Society of Animal Artists and a Master Wildlife Artist at the Leigh Yawkey Woodson Art Museum. He has received the National Sculpture Society Gold Medal Award; the Bronze Medal Award Pietro & Alfriedo Montana Memorial Prize; the Society of Animal Artists Leo J. Meiselman Award; the Prix de West Fraser Sculpture Award; the Masters of the American West, Kenneth T. and Eileen L. Norris Foundation Sculpture Award and James R Parker Trustee Purchase Award.
His sculptures have toured with various shows to dozens of museums both in the United States and abroad. Major commissions include: the Wichita Kansas Botanical Gardens, Wichita, KS; Benson Park Sculpture Gardens, Loveland, CO; American University, Washington, DC; Deerwood Office Park, Jacksonville, FL; National Museum of Wildlife Art, Jackson Hole, WY; Merrill Lynch corporate regional offices; NFL Houston Texans Reliant Stadium, Houston, TX; Cleveland Museum of Natural History, Cleveland, OH; The Fried Farm, Crozet, VA; the Bird Dog Hall of Fame, Grand Junction, TN and Gonzaga College High School, Washington, DC.