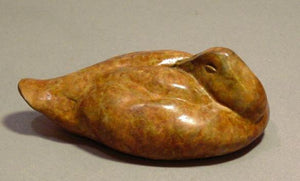 Stefan Savides - Canvasback Mini- Limited Edition Sculpture
Regular price $300.00 Sale
Stefan Savides
Canvasback Mini
Limited edition of 75
2"h x 4.5" x 2.5"
$300
"In years past, Canvasbacks were considered the "King of ducks." They are still today sought after by hunters as one of the top table birds. This sculpture captures the simple lines of this duck during its midday rest."- Stefan Savides
Banovich Art represents the multi-talented artist, Stefan Savides. Stefan's life is all about birds. He has never worked a day that he was not recreating birds in one form or another. While taxidermy, a profession in which he has worked his way to the top, earning international acclaim, has been a mainstay for most of his adult life, this multitalented artist, from a young age, has painted, carved and sculpted birds from around the world.
Sculpting in bronze is a natural progression from Savides' taxidermy, as it provides a lasting expression of his knowledge of avian anatomy and design. Years of intense study, coupled with flair for simplistic design equates to renderings that capture the essence of his subjects in elegant works of art. Stefan's exquisite work is without the distraction of overbearing detail, brought to life by the hands of a master sculptor. Stefan is truly a multitalented artist who has proven himself in a variety of mediums.
"While it was fifty years of avian taxidermy that fine-tuned my eye for bird anatomy, my artistic sense compelled me to sculpt in a style that omitted so much realistic detail, a factor essential in a mounted bird. As I embarked on my sculpture career, I vowed never to create bronze taxidermy." -Stefan Savides