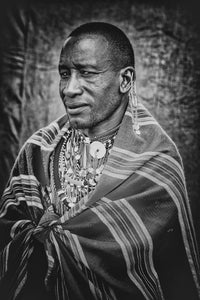 Riccardo Tosi - Chief - Fine Art Photography
Regular price $1,500.00 Sale
Limited Edition Photograph on Baryta Paper
• 15 signed & numbered in the plate
• Limited Edition 40" x 30" - $1,500
• Frame Black Contemporary NC1: 50.5" x 38.5": $750

All limited edition Riccardo Tosi artworks come with hand signed certificates of authenticity. 

Born in Milan Italy, Riccardo Tosi had the opportunity to experience Africa from a very early age. Childhood was spent following his father, conservationist Professor Guido Tosi, as he traveled throughout Africa admiring the wonders of it's wildlife. Africa remained in his blood and mind even as he traveled and worked throughout Asia. Eventually destiny brought him back to Africa, which he now calls his home. After working in the hunting and security industry, Tosi found his passion for wildlife photography. He now runs the anti poaching and conservation operations of a private concession in Tanzania and is constantly working to preserve and protect African wildlife through his art.