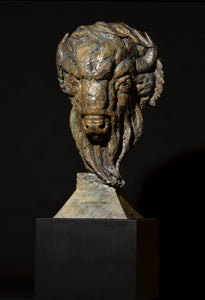 Mick Doellinger-American Icon-Limited Edition Sculpture
Regular price $35,000.00 Sale
Mick Doellinger
American Icon
Bronze edition of 12
50h x 29w x 23d
$35,000
A representative will call you with a shipping estimate.

"When someone looks at my sculptures, I hope they feel the essence of the animal. I want people to connect with the piece in some way; to notice subtle nuances of the shape, motion or character." - Mick Doellinger

From his earliest recollections, Mick was fascinated with Animals, Nature and Art and his life & work have always revolved around these passions. Mick Doellinger has lived in US for the past 10 years, but grew up in Australia where he gained many of the skills he uses today in his sculpting process. From his early days of rodeo, taxidermy, guiding and wildlife management, Mick's lifelong accumulation of "hands-on" knowledge has given him distinct insights into the characteristics, movements and anatomy of his subjects. Over the past thirty-five years Mick has honed his sculpting skills, melding his working knowledge of animal anatomy with an innate understanding of their mechanics.